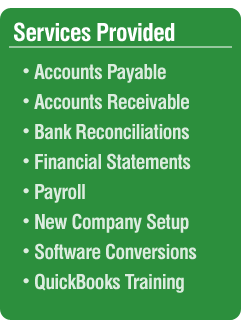 Welcome to Accounting for Success, a personalized accounting service that will help your business succeed!
Do you have the time to be your own accounting department? Do you understand your accounting software? Do you understand what your financial reports are telling you? These accounting distractions can lead to missed business opportunities, inaccurate accounting reports and in some cases even problems with the IRS.
Accounting for Success can help alleviate your anxieties by:
Giving you your valuable time back by taking the accounting function out of your hands and into the hands of someone who is knowledgeable in all aspects of accounting and business management.

Training your staff to understand and make the most of your accounting software. We are certified in several accounting software programs and we will give you and your staff the confidence to be sure that your reports are always completely accurate.
Please call Janice Martin at 904.571.4563, email us at janice@accountingforsuccessjax.com or fill out the "Request Evaluation" to the left of this page for a

free

one hour consultation.

We will come to your place of business anywhere in the Jacksonville or Orange Park area

and we also work with clients anywhere in or out of the state of Florida. Let us show you that Accounting for Success is always passionate about the success of our clients!
QuickBooks is one of the mostly widely used accounting software programs for small and large businesses. Is QuickBooks giving you the information that you need to operate your business successfully? Our Certified ProAdvisor for QuickBooks gives you the assurance that we can answer the QuickBooks questions that stump everyone! We can also provide easy to understand QuickBooks how-tos so that you can make the most of your software.

Accounting for Success offers a payroll service that integrates with your current accounting software at surprisingly affordable prices. Unlike other companies, we don't charge extra for direct deposit of employee checks or electronic filing and paying of your payroll taxes. Let our expert take the burden of payroll off of your desk so that you have more time to focus on the

success of your business

!